Hiring a private detective in Belgium
Bayo, private investigator in Belgium

In several cases, it's better to hire a private detective in Belgium rather than to start an investigation on your own. Through extensive and ongoing training, we are able to collect the necessary information and evidence as discreetly as possible. Without experience, it's often an impossible and not always safe to investigate. We search for answers to your questions, until you have enough information or evidence. We follow people without arousing suspicion or giving the person in question the feeling of being observed or chased. As the client, you will of course be informed of any important discovery and will always decide the next steps.
Offices in multiple regions
Bayo was founded as a private investigation agency in Belgium in 2016 and we have been able to build a large network throughout our existence. We now have offices in several regions in Belgium. Our private investigators are spread in such a way that there is always someone available in your area.
Overview of the regions
Antwerp
Brussels
Bruges
Ghent
Hasselt
Kortrijk
Leuven
Arlon
Bergen
Liege
Namur
Wavre
Of course, we automatically assign the private detective who is closest to you, so you do not have to pay an unnecessary mileage fee.
Benefits
Comparing private investigators (active in Belgium) is not always easy.
Therefore, we would like to summarize our advantages for you:
Objective observers

Non-committal first contact
Many years of experience
Strict confidentiality
Multilingual (both contact and reporting is possible in the following languages: NL, FR, EN)
Licensed and recognized by the Ministry of the Interior
Reports can be used in judicial investigations
Active throughout Belgium, France and the Grand Duchy of Luxembourg
Different offices (you pay kilometers from the nearest office)
As a client, you are informed at every step and always have the final decision on the further course (or termination of the investigation)
We are also available for cases in France and the Grand Duchy of Luxembourg.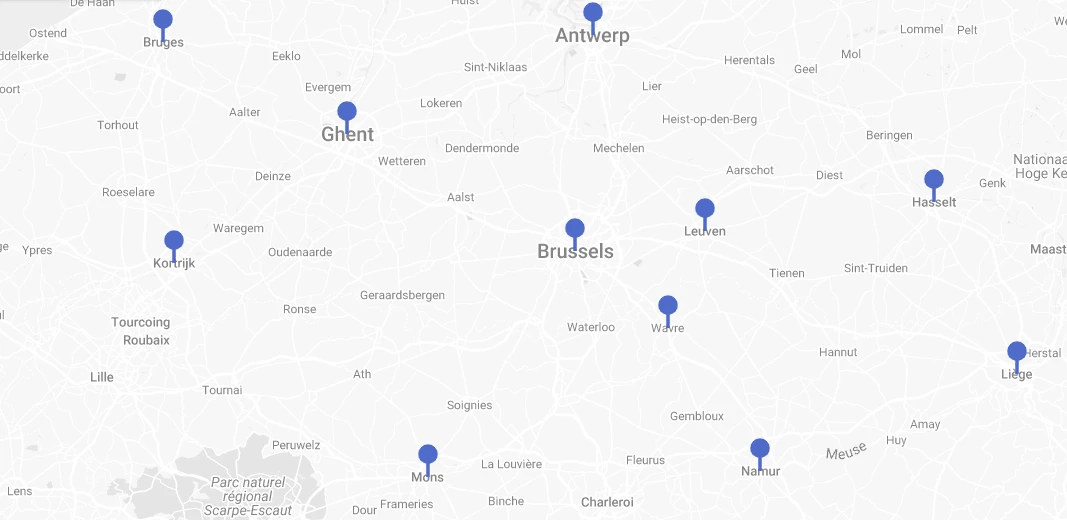 So you suspect that your partner is committing adultery? We collect evidence so you know where you stand. Click here for more information.
Thus, in a divorce, adultery can still count as a way to prove the lasting disruption of the marriage to a judge. Click here for more information.
Do you have a suspicion about who stole your goods or where they are? If so, you can call on our services. We write our findings in a report and find out more about the suspects. With this information you can go to the police and seek justice. Click here for more information.
Are you being harassed weekly or even daily by a particular person or group of people? Call on a detective agency that can gather enough evidence to identify the stalker so you can go to the police with this report. Click here for more information.
Do you have doubts about your potential partner? There is no shame in first having this person checked out by Detective Agency Bayo. Click here for more information.
Would you like to know where and with which friends your child is hanging out? We work discreetly so your child does not have to know about your concerns, if they later turn out to be unnecessary. Click here for more information.
Blackmail and extortion have not been unknown phenomena for years and, unfortunately, are becoming more common. Provide police departments with evidence to confront such practices. Click here for more information.
We help locate biological parents, a friend, a missing child or other loved ones. Click here for more information.
Find out what staff and respresentatives do during working hours and whether they honor their agreements. Click here for more information.
Verify that employees and trade representatives comply with the non-compete clause of their contracts. Click here for more information.
Expose corporate theft? We know the proper techniques and ways to catch an offender and work with you to build a case with the evidence. Click here for more information.
Have absences verified if you have doubts about the validity of sick leave or if you fear illegal absenteeism. Click here for more information.
Are you looking for a debtor or do you want the address or telephone number of a non-payer who suddenly disappeared? We track them down for you so you can take legal action. Click here for more information.
Do you suspect than your employees are leaking/transmitting information to third parties? Have it investigated in a timely manner. Click here for more information.
Put your company or store under the microscope with an independent investigation by a Bayo Mystery Shopper. Various matters can be examined, ranging from the quality of service to compliance with employment contracts and detection of suspected fraud. Click here for more information.
The first contact is always completely free.