Preventing fraud
Several current cases at Detectivebureau Bayo are about proving fraud. Therefore, we would like to take some time to discuss how to prevent this from happening.
Use caution with personal details
It goes without saying that you do not just go around telling everyone on the street who you are, where you live, when you go on holiday and when you are not at home. The same applies to the Internet, where you have to be careful because people with not-so-good intentions can also read this information. Although it is great fun to share that you live in a certain neighbourhood or have an interesting job, sometimes you give away too much information. Your full name, address, e-mail address and telephone number are personal details and should not be shared so easily.
Identity theft
Identity fraud or theft is taking over someone's identity with the aim of harming or swindling that person or others. Often the consequences for the victim afterwards are a damaged reputation and/or financial problems.
It is important to keep in mind that the collection of your personal data does not only happen online. It is also possible that documents stolen during a burglary in your home are used. But even stealing your trash or your mail can be a source of information, although these are obviously not new phenomena. The consequences of identity fraud can be fraud, extortion, stalking or cyberstalking.
Manage and remove data on Google
On your own social media you have all control, but what if your data is mentioned on a website that you do not manage yourself? Then you can always enlist the help of Google. This blog post covers the possibilities, let's summarise.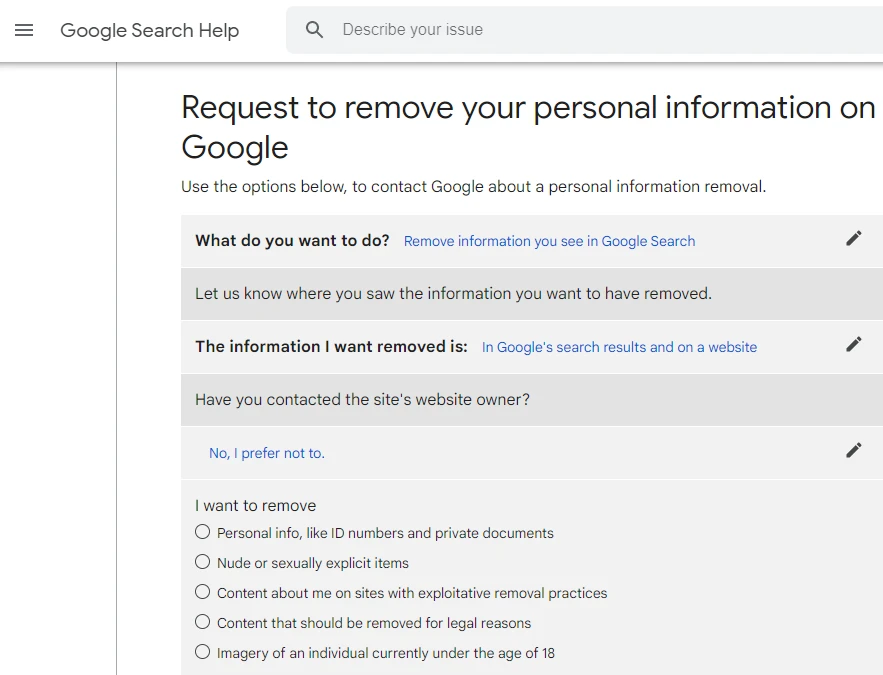 You can use this online form to request the deletion of such data. Previously, this was already possible for credit card numbers, but now it is also possible for the following data:
bank account or credit card number
login data
signatures (handwritten)
Identity documents
medical records
personal contact details (physical address, telephone number and e-mail address)
confidential login data
If you still have questions, please read the Google FAQ, where you will find frequently asked questions and answers.
Have you become a victim of fraud?
Unfortunately, you've been the victim of fraud? Then you need sufficient evidence to file a complaint with the police. Depending on the information you already have, Detective Bureau Bayo can help you further with gathering evidence and can assist you with professional help.
Please note: Finding out the true identity of certain profiles and/or websites is often very difficult. Often these are professional gangs who commit fraud on a large scale. It can also involve people abroad, who are more difficult to prosecute even when evidence is found. Unfortunately, there are many cases where it is not possible to gather concrete evidence.
Contact us via the contact form on our website or contact us via the other possibilities mentioned on the contact page to discuss what we can do for you.
Usefull information